Men's Team
1
Guardiola: Foden's time will come
FANTASTIC MR FODEN: Eyes on the ball, Phil!
Pep Guardiola confirmed Phil Foden will feature in City's Champions League trip to Dinamo Zagreb.
The Premier League Champions complete our 2019/20 group stage campaign on Wednesday evening, having already clinched top spot and a place in the knock-out stages.
With progression secured, Guardiola declared he intends to rotate the squad, with Foden especially set to gain more valuable first-team minutes.
ICYMI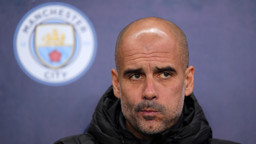 "Maybe (he will play more)," he said. "He can play – there are no doubts about that.

READ: Walker outlines areas for improvement
WATCH: City 1-2 United | Short highlights
"He is ready; he will play Wednesday and is ready.
"I count all of them. I take decisions. I know how it works.
"No-one mentioned Phil after we won at Burnley!
"His time is coming and we will see in the next games."
Guardiola also explained Benjamin Mendy's absence from the Manchester Derby starting XI with summer signing Angelino chosen over the French full-back.
"In that moment, Angelino plays better than the other ones in this position," he said.
"After two years injured, you are not fit. He (Mendy) needs time."

Asked whether he feels City need to rebuild in the upcoming transfer windows, Guardiola replied: "I like the team. We have little details we need to come back.
"It's not just me – the Club needs to give an opinion as well.
"I like my players. This season, we cannot repeat the previous two – the results speak for themselves.
"It's the first time (I have been 14 points behind). As a player, maybe; as a manager, no.
"The reality is: we are 14 points behind because of our mistakes and the quality of the opponent and things we can't control.
"We have to continue. We have other competitions to play. Maybe this will help us in the future to be better.
"We are not thinking about trying to win the Champions League. We are trying to win games. I am not thinking about how many points we need.

"We are not as consistent as the previous two seasons; that is the reality. The players are playing the way I want.
"You have to avoid counter-attacks and we are so good at that but this season, we have struggled a little bit.
"United were good and we conceded a few counter-attacks. United have quality to defend and counter. That is the quality of the teams we have to face.
"We have won a lot of Premier Leagues in the last decade but sometimes you have to accept it.
"When I see my team, all the games except 15 or 20 minutes against Chelsea, I like the team and how they play.
"Maybe we need to improve and accept the reality."