Men's Team
1
Which TV channel is Dinamo Zagreb v City on?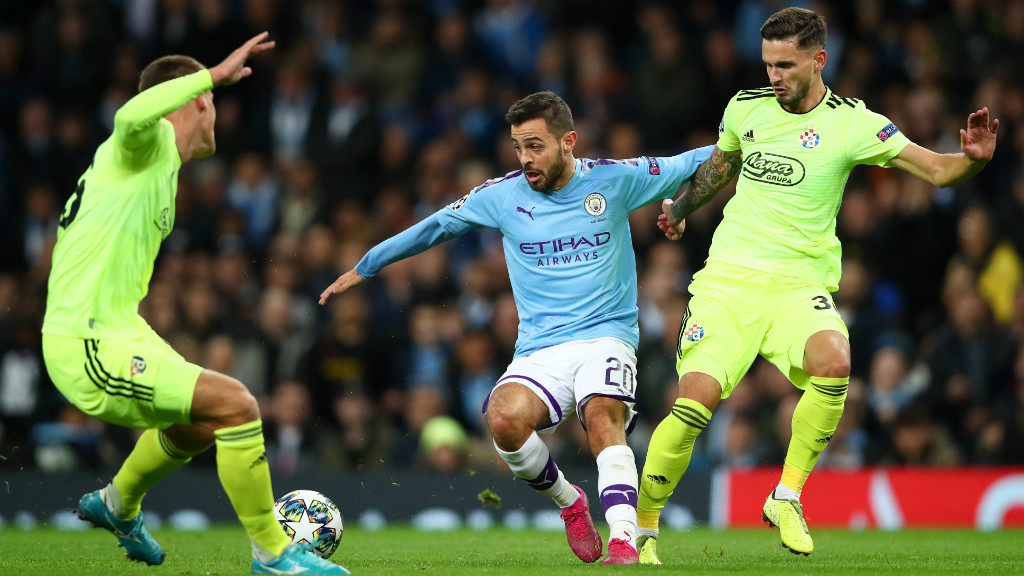 DOUBLE TROUBLE: Bernardo Silva takes on two opponents in the first half
City wrap up their Champions League group stage fixtures with a trip to Dinamo Zagreb on Wednesday evening...
The game will be screened live in the UK on BT Sport, kick off 17.55pm GMT.
You can also keep up to date with all the action in our matchday centre here on mancity.com or via our Twitter: @ManCity.
For those fans living outside the UK, you can check out the global TV listings below to find out how you can tune in courtesy of livesoccertv.com.
| | |
| --- | --- |
| Algeria | beIN SPORTS CONNECT,beIN Sports HD 4 |
| Angola | SuperSport 5 Africa,SuperSport Maximo,DStv Now |
| Argentina | ESPN Sur,ESPN Play Sur |
| Australia | Optus Sport |
| Austria | DAZN |
| Bahrain | beIN SPORTS CONNECT,beIN Sports HD 4 |
| Belgium | Proximus Sports |
| Belize | ESPN Play Norte,ESPN Norte |
| Benin | SuperSport Maximo,Canal+ Sport 2 Afrique,SuperSport 5 Africa |
| Bolivia | ESPN Sur,ESPN Play Sur |
| Bosnia and Herzegovina | HRT 2,Arena Sport 3 Serbia,Klik SPORT |
| Botswana | SuperSport 5 Africa,SuperSport Maximo,DStv Now |
| Brazil | Esporte Interativo Plus |
| Brunei | beIN Sports Connect Malaysia |
| Bulgaria | Voyo Sport,bTV Action |
| Burkina Faso | Canal+ Sport 2 Afrique,SuperSport 5 Africa,DStv Now,SuperSport Maximo |
| Burundi | Canal+ Sport 2 Afrique,SuperSport Maximo,SuperSport 5 Africa,DStv Now |
| Cambodia | Goal.com |
| Cameroon | SuperSport 5 Africa,SuperSport Maximo,DStv Now,Canal+ Sport 2 Afrique |
| Canada | DAZN |
| Cape Verde | Canal+ Sport 2 Afrique,SuperSport 5 Africa,SuperSport Maximo,DStv Now |
| Central African Republic | SuperSport 5 Africa,Canal+ Sport 2 Afrique,SuperSport Maximo |
| Chad | beIN SPORTS CONNECT,DStv Now,SuperSport 5 Africa,Canal+ Sport 2 Afrique,SuperSport Maximo,beIN Sports HD 4 |
| Chile | ESPN Sur,ESPN Play Sur |
| China | QQ Sports Live |
| Colombia | ESPN Play Sur,ESPN Sur |
| Comoros | SuperSport Maximo,SuperSport 5 Africa |
| Congo | SuperSport 5 Africa,DStv Now,Canal+ Sport 2 Afrique |
| Congo DR | SuperSport Maximo,DStv Now,SuperSport 5 Africa |
| Cook Islands | Sky Sport 7 beIN Sports |
| Costa Rica | ESPN Norte,ESPN Play Norte |
| Cote D'Ivoire | SuperSport 5 Africa,DStv Now,SuperSport Maximo,Canal+ Sport 2 Afrique |
| Croatia | HRT 2,Klik SPORT |
| Cyprus | Cytavision on the Go,Cytavision Sports 1 |
| Czech Republic | O2 TV |
| Denmark | TV3 Sport,Viaplay Denmark |
| Djibouti | SuperSport 5 Africa,SuperSport Maximo,beIN SPORTS CONNECT,beIN Sports HD 4,Canal+ Sport 2 Afrique,DStv Now |
| Dominican Republic | ESPN Play Norte,ESPN Norte |
| Ecuador | ESPN Sur,ESPN Play Sur |
| Egypt | beIN Sports HD 4,beIN SPORTS CONNECT |
| El Salvador | ESPN Norte,ESPN Play Norte |
| Equatorial Guinea | Canal+ Sport 2 Afrique,SuperSport 5 Africa,DStv Now,SuperSport Maximo |
| Eritrea | SuperSport Maximo,SuperSport 5 Africa,DStv Now |
| Estonia | TV3 Sport |
| Ethiopia | SuperSport Maximo,DStv Now,SuperSport 5 Africa |
| Fiji | Sky Sport 7 beIN Sports |
| Finland | C More Sport 2,Viasat Sports Premium,C More Suomi |
| France | RMC Sport 2,RMC Sport en direct |
| Gabon | SuperSport 5 Africa,Canal+ Sport 2 Afrique,SuperSport Maximo,DStv Now |
| Gambia | Canal+ Sport 2 Afrique,SuperSport 5 Africa,SuperSport Maximo,DStv Now |
| Germany | TeleClub Sport Live,DAZN |
| Ghana | SuperSport Maximo,DStv Now,Canal+ Sport 2 Afrique,SuperSport 5 Africa |
| Greece | Cosmote Sport 4 HD |
| Guatemala | ESPN Norte,ESPN Play Norte |
| Guinea | SuperSport Maximo,DStv Now,Canal+ Sport 2 Afrique,SuperSport 5 Africa |
| Guinea-Bissau | DStv Now,SuperSport Maximo,SuperSport 5 Africa,Canal+ Sport 2 Afrique |
| Honduras | ESPN Norte,ESPN Play Norte |
| Hong Kong | beIN Sports Connect Hong Kong |
| Hungary | Spíler2 |
| Iceland | Stöð 2 Sport 2 |
| Indonesia | Vidio |
| Iran | beIN SPORTS CONNECT,beIN Sports HD 4 |
| Iraq | beIN Sports HD 4,beIN SPORTS CONNECT |
| Ireland | Talksport 2 Radio UK,BT Sport 3,Virgin TV Go,Virgin Media Two,BT Sport Live |
| Israel | 5Sport |
| Japan | DAZN |
| Jordan | beIN Sports HD 4,beIN SPORTS CONNECT |
| Kenya | SuperSport 5 Africa,DStv Now |
| Kiribati | Sky Sport 7 beIN Sports |
| Kuwait | beIN SPORTS CONNECT,beIN Sports HD 4 |
| Laos | Goal.com |
| Latvia | TV3 Sport |
| Lebanon | beIN Sports HD 4,beIN SPORTS CONNECT |
| Lesotho | SuperSport Maximo,DStv Now,SuperSport 5 Africa |
| Liberia | SuperSport 5 Africa,SuperSport Maximo,DStv Now |
| Libya | beIN SPORTS CONNECT,beIN Sports HD 4 |
| Lithuania | TV3 Sport |
| Luxembourg | RMC Sport 2 |
| Macedonia | Arena Sport 3 Serbia,Klik SPORT,MaxTV Go |
| Madagascar | SuperSport 5 Africa,SuperSport Maximo,DStv Now |
| Malawi | SuperSport Maximo,SuperSport 5 Africa,DStv Now |
| Malaysia | beIN Sports Connect Malaysia |
| Mali | SuperSport Maximo,Canal+ Sport 2 Afrique,SuperSport 5 Africa,DStv Now |
| Malta | GO TV Anywhere,TSN2 Malta |
| Marshall Islands | Sky Sport 7 beIN Sports |
| Mauritania | DStv Now,Canal+ Sport 2 Afrique,beIN Sports HD 4,beIN SPORTS CONNECT |
| Mauritius | RMC Sport 2,DStv Now,SuperSport 5 Africa |
| Mexico | ESPN Mexico,ESPN Play Norte |
| Monaco | RMC Sport 2 |
| Montenegro | HRT 2,Klik SPORT,Arena Sport 3 Serbia |
| Morocco | beIN SPORTS CONNECT,beIN Sports HD 4 |
| Mozambique | SuperSport Maximo,SuperSport 5 Africa,DStv Now |
| Namibia | SuperSport 5 Africa,SuperSport Maximo,DStv Now |
| Nauru | Sky Sport 7 beIN Sports |
| Netherlands | Ziggo Sport Voetbal |
| New Zealand | SKY Go NZ,beIN Sports Connect New Zealand,Sky Sport 7 beIN Sports |
| Nicaragua | ESPN Norte,ESPN Play Norte |
| Niger | DStv Now,Canal+ Sport 2 Afrique,SuperSport 5 Africa,SuperSport Maximo |
| Nigeria | DStv Now,Canal+ Sport 2 Afrique,SuperSport 5 Africa |
| Niue | Sky Sport 7 beIN Sports |
| Norway | Viasport 1 |
| Oman | beIN SPORTS CONNECT,beIN Sports HD 4 |
| Palau | Sky Sport 7 beIN Sports |
| Palestinian Territory | beIN SPORTS CONNECT,beIN Sports HD 4 |
| Panama | ESPN Play Norte,ESPN Norte |
| Paraguay | ESPN Play Sur,ESPN Sur |
| Peru | ESPN Sur,ESPN Play Sur |
| Philippines | Goal.com |
| Poland | IPLA,Polsat Sport Premium 1 |
| Portugal | Eleven Sports 1 Portugal |
| Qatar | beIN SPORTS CONNECT,beIN Sports HD 4 |
| Romania | Digi Sport 1 Romania |
| Russia | Match TV Football 1 |
| Rwanda | Canal+ Sport 2 Afrique,SuperSport Maximo,SuperSport 5 Africa |
| Samoa | Sky Sport 7 beIN Sports |
| Sao Tome And Principe | SuperSport 5 Africa,SuperSport Maximo |
| Saudi Arabia | beIN SPORTS CONNECT,beIN Sports HD 4 |
| Senegal | SuperSport 5 Africa,SuperSport Maximo,Canal+ Sport 2 Afrique,DStv Now |
| Serbia | HRT 2,Arena Sport 3 Serbia,Klik SPORT |
| Seychelles | SuperSport Maximo,DStv Now,SuperSport 5 Africa |
| Sierra Leone | SuperSport Maximo,SuperSport 5 Africa,Canal+ Sport 2 Afrique,DStv Now |
| Singapore | beIN Sports Connect Singapore |
| Slovakia | Orange Sport 1 |
| Slovenia | SportKlub 1 Slovenia,HRT 2 |
| Solomon Islands | Sky Sport 7 beIN Sports |
| Somalia | beIN Sports HD 4,beIN SPORTS CONNECT,SuperSport Maximo |
| South Africa | SuperSport 3,DStv Now,SuperSport Maximo |
| South Sudan | beIN Sports HD 4,SuperSport 5 Africa,beIN SPORTS CONNECT,DStv Now |
| Spain | Movistar Liga de Campeones 1,Mitele Plus,Movistar+ |
| Sudan | beIN Sports HD 4,beIN SPORTS CONNECT,DStv Now,SuperSport Maximo |
| Swaziland | DStv Now,SuperSport 5 Africa,SuperSport Maximo |
| Sweden | Viasat Sports Premium,Viaplay Sweden |
| Switzerland | TeleClub Sport Live |
| Syria | beIN SPORTS CONNECT,beIN Sports HD 4 |
| Tanzania | DStv Now,SuperSport 5 Africa,SuperSport Maximo |
| Thailand | Goal.com |
| Togo | Canal+ Sport 2 Afrique,SuperSport Maximo,SuperSport 5 Africa,DStv Now |
| Tonga | Sky Sport 7 beIN Sports |
| Tunisia | beIN Sports HD 4,beIN SPORTS CONNECT |
| Turkey | beIN CONNECT Turkey,Digiturk Play |
| Tuvalu | Sky Sport 7 beIN Sports |
| Uganda | SuperSport 5 Africa,DStv Now,SuperSport Maximo |
| Ukraine | Futbol 1,OLL.tv |
| United Arab Emirates | beIN SPORTS CONNECT,beIN Sports HD 4 |
| United Kingdom | BT Sport Live,BT Sport 3,Talksport 2 Radio UK |
| United States | TUDN en Vivo,TNT USA,TUDN USA,B/R Live,Univision NOW,Watch TNT,UniMás |
| Uruguay | ESPN Sur,ESPN Play Sur |
| Vanuatu | Sky Sport 7 beIN Sports |
| Venezuela | ESPN Sur,ESPN Play Sur |
| Vietnam | K+PM |
| Yemen | beIN SPORTS CONNECT,beIN Sports HD 4 |
| Zambia | SuperSport 5 Africa,SuperSport Maximo |
| Zimbabwe | SuperSport 5 Africa,SuperSport Maximo,DStv Now |